Lei Yue Mun Seafood Village Dinner Cruise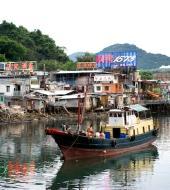 Lei Yue Mun Seafood Village, situated at Hong Kong's Eastern Harbour and still carrying on many Chinese traditions, is widely known to the gourmets as a seafood paradise. Here visitors are attracted to many traditional scenes, such as people having a wide variety of seafood fresh to buy from fishmongers' stalls and tanks, and have it cooked to their own specifications in one of Lei Yue Mun's many restaurants. This evening cruise promises you not only a wonderful experience, but a great value for money. We begin with a harbour cruise on a traditional Chinese sightseeing tour boat to sail around to let you enjoy the exciting night views of Hong Kong Harbour. Afterwards we will take you to Lei Yue Mun Seafood Village for a brief walk ashore, and then for a delicious Chinese Dinner. On the return journey, enjoy more of the glittering harbour views by night.
Included:
UNLIMITED FREE DRINKS on board incl. whisky, gin, beer, soft drinks, house red / white wine
Chinese Set Dinner at restaurant
Dinner Dishes:
Minced Chicken & Sweet Corn Potage
Chinese Fried Spicy Salted Prawn
Deep-Fried Squid with Chilli and Salt
Scallops Steamed with Garlic
Steamed Fish in Traditional Cantonese Style
Pork in Sweet and Sour Sauce
Seasonal Vegetable
Fried Rice in Yeung Chow Style
Braised E-Fu Noodles
Please Note: Above course will be served in full to a table seating 6-10 or more persons, whilst a table seating 5 or less persons will be served with 7 dishes and choice at the restaurant's discretion
Departure Location: Pier 9, Central
Departure Time: 6pm
Duration: approx. 3 hours
Your ticket will be sent within 24 hours in a separate e-mail.

Tickets will be sent via e-mail!