Western Shoreline & Container Port Cruise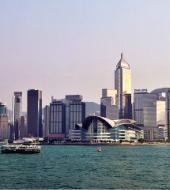 Enjoy a leisurely cruise to see the most famous landmarks and architectures, including ICC, IFC, Hong Kong Convention and Exhibition Centre, HSBC Headquarters Building and the Bank of China Tower. One of the highlights of the tour is the Yaumati Typhoon Shelter, the major anchorage for fishermen's boats and tug boats. Another highlight is the Stonecutters Island, the former British Royal Navy Base. As the boat sails further west, we will see the spectacular new Stonecutters Bridge linking the city to the new Hong Kong International Airport. Opened in 2009, it is currently the second longest cable-stayed bridge in the world. Right below the bridge is the Kwai Chung Container Port, the world's third largest container port. Have your camera at the ready to capture the cargo handling facilities for container ship and river boats.
Included:
One beer; or two soft drinks/tea/coffee onboard
Departure Location: Pier No. 9 Central
Departure Time: 4pm
Duration: approx. 1.5hours
Your ticket will be sent within 24 hours in a separate e-mail.

Tickets will be sent via e-mail!