Temple and Feng Shui Tour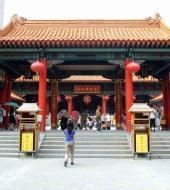 This guided tour introduces the Chinese philosophy of feng shui (literally "wind water"). Feng shui has become a worldwide phenomenon in recent years, but it has been a part of the culture of Hong Kong since its early days. It aims for harmony, and when this is achieved good luck, synonymous with health and wealth, will follow.
We start the guided walk in the Central business district, taking in the environment of the HSBC bank building and its location. Moving along we will visit the new China Bank Tower, (the masterpiece of architecture, designed by IM Pei) which has an interesting slant on feng shui (on weekdays we can go inside this building, and up to the 43rd floor - for this you require a valid passport).
From here we use public transport and take ourselves northward, to the foothills of Lion's Rock, to a perfect feng shui location for the Wong Tai Sin temple (Sik Sik Yuen), the home of the 'great god Wong'. Here, people worship Taoism, Buddhism and Confucianism, all under the same roof - famed for the statement, "What you request is what you get".
From here we move onto the peaceful Nan Lian garden and through the Buddhist temple at the Chi Lin Nunnery.
We finish the tour here with lunch at the vegetarian restaurant in the garden.
Please Note:
You require a valid passport to climb the New China Bank Tower
All transportation costs are included in the price
Departure Location: outside the General Post Office, 2 Connaught Place, Central
Departure Time: 08.30am
Duration: 5.5 hours
Your ticket will be sent within 24 hours in a separate e-mail.

Tickets will be sent via e-mail!